How To Date As A Gamer During Lockdown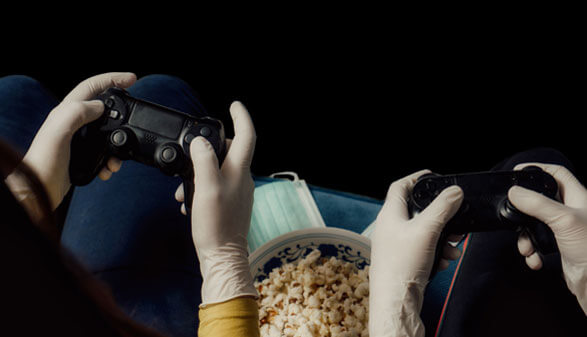 For single people all around the world, 2020 and the current pandemic has really stopped finding love in its tracks. And with many countries issuing states of emergency and the UK currently going into further lockdowns and restrictions, it doesn't look like it's going to get easier any time soon. But love prevails and where there's a will, there's a way. For gamer girls and guys, this year has been the perfect excuse for spending a ton of time doing what you love - gaming! But when it comes to gamer dating, it's not always as easy.

If you're a gamer and you're looking for love (or even just some casual dating with like-minded people with a similar interest) online dating is probably your best option. Which of course is a very broad concept as there are so many options out there but let's get into how to date as a gamer during lockdown and the global pandemic.
Gamer Dating During Lockdown
Dating for anyone during lockdown is tricky - gamer or not. So understanding first and foremost that there will be some obstacles in the way is important. The world isn't like it used to be, there are more rules than ever and more restrictions of what we can and can't do. Even simply going out for a meal requires more planning and preparation than ever before.

For gamers who want to delve into the world of dating, the dating site for gamers, gamers-dates.com is a good starting point. A dedicated gamer dating site to find gamer girls and gamer guys near you which is as simple as setting up your dating profile and then chatting with other members. The main positive of starting here is that you already know you have something in common with the people you're chatting to. It's a quick, easy and safe option to find gamers to date.

Some icebreaker questions to ask when chatting to someone on gamers-dates.com are:
1. What's your all-time favourite game?
2. What's your favourite game from when you were a kid?
3. What's your favourite genre of game?
4. If you could have dinner with any game character who would it be?
5. Which game character is most like you and why?
6. Which game do you find the hardest and why?
7. Which game have you played the most times?
8. If you could live in the world of any game, which one would it be?
So now you've got chatting to some like-minded gamer girls or gamer guys, it's now time to think about how to go about dating during the current pandemic. Of course this will rely heavily on where you are in the world and the current restrictions that you're under, so let's cover both situations.
Date Ideas For Gamers
Okay so first let's assume you're in a position to physically meet up for a date with someone else you've met on your gamer dating site - lucky you! You might want to consider some of these as potential date ideas:

• Do an escape room together
• Have a movie night of game-based films
• Get offline and have a board game date night
• Visit an arcade
• Go old school and play games from your childhood
• Visit a gaming convention

Some of these might not be an option right now, considering the current pandemic but are always worth keeping in mind for the future. For those that are doable, always ensure you and your dates health and safety comes first. If either one of you isn't comfortable visiting somewhere public, then the other person should respect that. There are plenty of virtual dates you could have instead. Which we're going to look into now!
Virtual Date Ideas For Gamers
Now for the unfortunate people who can't meet their date due to the pandemic. It might be far from ideal right now but there are still tons of fun and creative options for online dating for gamers! Gamers are in a very fortunate position where they spend a large amount of time online or in a virtual world anyway, so adapting date nights to suit those circumstances will come much easier than to those who aren't online and who aren't familiar with gaming.

For some virtual date ideas which can be done safely from home without breaking any restriction rules or putting yourself or your date at an unnecessary risk, you might consider one of these ideas:

Play each other online

Let's start with the absolute obvious choice for gamer dating and that's, quite simply, to game together. Couples who game together, stay together! By now you've probably established what your gaming preferences are and which you have in common. It's likely you enjoy similar sorts of games so choose wisely - the games you decide to play together might teach you a lot about each other in the process!

Co-op games are great for this. If you don't fancy shooting and trying to murder each other on your first date, consider a co-op game instead where the aim is to bring players together instead of, well, killing each other. Some co-op multiplayer games to consider are:
• Borderlands 2
• Mario Kart
• Diablo 3
• Portal
• Final Fantasy XIV
• Overcooked

But if you both prefer a bit of gunfire and would rather bust out Call of Duty, that's cool too!
Have A Gaming Themed Quiz

Most gamers are competitive. That's what makes them such great gamers! So what could be more fun than a gaming themed Zoom quiz? It's safe to say that everyone has gained enough experience with Zoom quizzes over the last year, so put that to the test and arrange a gaming themed quiz with your date. Questions could include things like:
• Release dates
• Character or place names
• Story-line questions
You could have different rounds with different themes and even have a prize for the winner. Perhaps they get to choose which game you both play together next or which game-themed movie you watch together on your next virtual date night? Get creative and make it fun!
Virtually Watch A Gaming Themed Movie Together

A date night at the movies is a popular option but not one everyone can safely do right now. So bring the movie night to you and have a virtual watch-along with your date. As you're both gamers, you might want to consider a gaming themed movie to watch together. Some suggestions of gaming themed movies are:
• Ready Player One
• Tomb Raider
• Silent Hill
• Resident Evil
• Tekken
• Prince of Persia
• Need For Speed
• Warcraft
Do a virtual escape room together

If you can get to an actual escape room, try a virtual online escape room experience instead! They might not drum up quite the same amount of adrenaline but it'll still be a mega fun and unique virtual date idea for gamer couples.

In fact, a virtual escape room will certainly help you get to know each other and how you handle pressure, stress and how well you are at problem solving. Which could come in handy to know, should your relationship continue!
Virtual dinner, drinks and conversation

Of course you don't have to be a gamer couple in order to enjoy this virtual date idea but it's a classic and it couldn't be left out. Arrange a virtual dinner and drinks night and take the time to get to know each other. Perhaps order the same takeaway or cook the same meal. No doubt that as gamers, your conversation will take you to gaming eventually, so this will be a great chance to properly get to know each other to see if, aside from gaming, there's a natural spark!
Dating Sites For Gamers
Online dating for gamers doesn't have to stop just because we're in the middle of a global pandemic. The great thing about humans is we adapt. Which is an important lesson that many characters of our favourite games actually teach us.

Dating sites for gamers give you the great option of finding like-minded people at the click of a button with less risk of awkward silences and realising that hey, you've actually got nothing in common on the very first date.

Dating is difficult for everyone right now, due to the global pandemic. But what it has done has lit up people's imaginations and allowed them to get more creative on how they date and how they can get to know people. The virtual world is an incredible tool for that.

So if you're venturing into online dating for gamers, remember to use your imagination. You're a gamer – you've got a big imagination! And have fun. And of course, don't forget the basic safety precautions, especially if you're online. Don't give out too much personal information on your first virtual date and even if it is only online, get the heck out of there if you feel like something is amiss.

There's a whole virtual world of possibilities for online gamers out there - enjoy it!
Register for
Gamers-Dates.com