Grab Some Great Gaming Gifts This Christmas!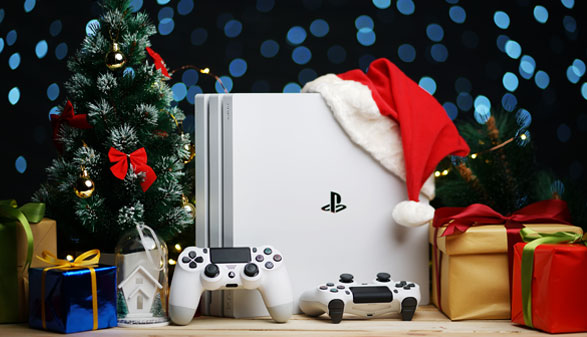 Christmas! Yes, it's nearly that time of year again! It comes round fast, right?! There are plenty of single gamers out there, and at the festive time of year it's important that you treat yo' self and indulge in your passion! So from trendy tech to gamer dating, here's a list of some of the most important things that need to find their way onto every gamer's Christmas wishlist!

1. A Gaming Chair
No matter how avid a gamer you are, from n00b to a pro, comfort is important. When gaming you don't want to be hindered by an aching back or a sore bum, which is why it's so important to have a good gaming chair in your arsenal. They can be adapted to your specific requirements and ensure that even after hours of gaming you never end up with bad posture or discomfort. Champion!
2. A Good Set Of Headphones
One thing that makes a game so immersive is the soundtrack: the music, the dialogue, even the ambient noise. That's why it's so important to get a high-quality set of headphones; one that really shows off the dynamic range of the audio. There's nothing quite like getting absorbed into the world of a game that you love and a decent set of headphones will give you a far superior gaming experience.
3. A High-Quality Microphone
Keeping connected with friends and teammates is often an integral part of online multiplayer games, and if you want to plan a strategy, call for help, or even have a little rant (let's be honest - we've all been there) then you need a high quality dynamic microphone. There are many different options; some come integrated into headphones, some come as separate units. It's down to you to decide which best suits your needs!
4. Gamers Dates Subscription
There's no game quite like the dating game and they say that there's someone for everyone! Gamer dating can be tricky, but luckily there are gaming-specific dating sites for gamers where you can find someone with the same interests and passions as you. So whether you're looking for a bubbly gamer boy or a gorgeous gamer girl, checking out an online dating site for gamers is a smart move! With a simple subscription you could inject a little romance into your life and find your very own player number 2!
5. Gaming Pamper Hamper
After a hard day's gaming you're going to want to kick back, relax and treat yourself. Luckily you can get your hands on handmade gamer gift sets containing a whole host of different pamper products to keep you feeling fresh, clean and relaxed. Depending on where you buy from there are boxes for men and boxes for women containing a whole host of products to keep any gamer good to go!

So there you have it! Any of these great gaming gifts would be sure to make any single gamer's festive period that extra bit special! Happy Christmas to all, and to all a good game!
Register for
Gamers-Dates.com